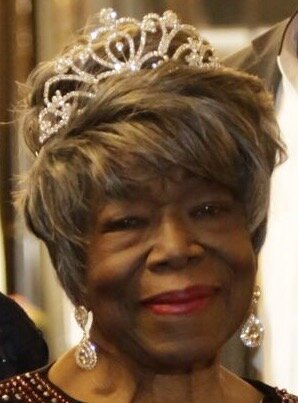 Obituary of Ernestine Jewell Murray
Please share a memory of Ernestine to include in a keepsake book for family and friends.
Ernestine Jewell Murray was fifth of six children born to William Woodard and Carrie Elizabeth Pender.
She met and married Garfield Emanuel Murray within 3 months after meeting.
They had a loving marriage just shy of 50 years. She gave birth to five wonderful, loving children. He affectionately called her 'Tina' which remained with her.
All her dreams were fulfilled when she moved to Queens, bought a home and
had Pamela, Dora, Janice, Eileen and Garfield, Jr. Ernestine loved reading, cooking, sewing, dancing and raising their five children.
She sent Pamela and Dora to school for piano after she taught them everything
she knew. She was self-taught and deemed exceedingly talented but very shy.
Because of this she did not perform as a soloist in her teenage years. However her two daughters became concert pianists and as an adult she performed duets with her daughters at C.Washington Music Studio. Her daughters proudly wore beautiful gowns their mother made in their concert performances.
Ernestine graduated from Washington Irving High School in NYC with the ambition to become a nurse. Having surgery on one knee prevented her from pursuing that career. Upon graduation she became one of the first Black long distance operators at AT&T until she retired from there to raise her kids. In fact it was her AT&T stocks that enabled her to send some of her children to private school in order for them to start school at 4 years old because she knew they were ready and didn't want them to be delayed.
After raising her children she however, in align with her desire, became a nurse and doctor's aide as a public health assistant for 13 years and loved every moment of it. Her last position with the City of NY was an Office Associate which she obtained after taking an exam she was encouraged to take by daughter Dora. She held the position until she retired at age 68. It came to pass years later that she would use her knowledge and skills to nurse her
husband in his final years. She was assisted in this loving task by their son
Garfield Jr., CNA.
After retiring she joined the Theodora Jackson Senior Citizen Center where she became secretary to the Advisory Board. There she also mentored high school juniors in English as part of an intergenerational learning team for a local high school.
Ernestine was progressive and took computer classes in her 80's and then learned to use an Iphone which she and fellow octagenarian friends called, "a smart-alic phone". Her intellect was astounding from being transferred to a gifted class as a youngster to her love for the Jeopardy game show where she got most answers correct. So many were fascinated with her intellect and surprised that she hadn't attended college.
Ernestine and Garfield joined First Presbyterian Church in Jamaica in 1980. A year later she was ordained as a deacon, serving faithfully for 11 years; served as Treasurer of Presbyterian Women for 6 consecutive years and enjoyed every moment.
Ernestine "Tina," is the last of her siblings and leaves behind her loving children Physician Pamela, Dora Jewell, Janice Darlene, Eileen Shirley and Garfield Emanuel, Jr; Her loving grandchildren Yolanda Jewell, Lawrence, Warren, Krystle, Kimberly, John, Jewell B., Eric and Jasmine;Goddaughter Linda, Son-In-Love Clifford; Nieces and nephews: Olivia, William, Shirlea, Joseph, Vincent, Anthony, Monique, Seimone, Sabrina and Phil Jr.; & many great, great grand nieces and nephews; most dear friends, especially Ruth, Marion, Clery, Claudette, Shirley,Bernice and Sara.
To send flowers to the family or plant a tree in memory of Ernestine Murray, please visit Tribute Store
Share Your Memory of
Ernestine

Gina M. Mitchell | NYS Licensed Funeral Director | (516) 991-8613