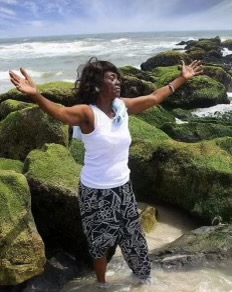 Obituary of Gertrude V. Burton Smith
Gertrude Veronica Burton affectionately known by many nicknames such as Mommy, Mother Burton, Gigi, Trudy B and Aunt Phil was born on August 16,1918 in Camaguey Cuba, to her loving parents George and Clementine McKenzie. She was one of 7 girls and 3 boys. As a young girl Gertrude grew up mainly in Panama during her formative years and later came to the United States as an adult.
Later she met and fell in love with Stanley G. Burton eventually wed and had three beautiful children together Garfield , Pertina and Leslie.
Gertrude worked as a seamstress in the garment district. She was fast and efficient at her craft and later started her own business . Gertrude and Stanley purchased their first home in Brooklyn, N.Y where they mainly raised their children. That's also where they met the Marrero's which became their family and raised their children together as family. She and Mrs Marrero became the best of friends/sisters and their children just as close.
Gertrude and Stanley went on to purchase numerous homes but eventually settled in Freeport Long Island where they continued to nurture and love their growing family.
Gertrude loved to travel. Catching flights and cruising to places was how Gertrude and Stanley spent quality time. Cutting a rug was also at the top of Gertrude's list when it came to having a good time. Whether it was with her siblings dancing to soca music during a family gathering with her sharply dressed husband often showing off their ballroom dancing skills or at the community senior center where they won numerous accolades for their flawless moves and beautiful connection. Gertrude enjoyed life with Stanley up until his passing in 1998.
The last few years of her life, Gertrude relocated with her son Garfield to the sunshine state of Orlando Florida. Gertrude would wake up bright and early to ensure she would make it to her senior center, after a full day there, Gertrude would call on her son and dance partner Garfield to find out where they were going to party for the night. She would literally dance the night away and probably had enough energy left to make it to the casino. In NY and Florida Gertrude was loved and known by many people of all ages. Gertrude was a social butterfly who drew everyone's attention everywhere she went. Everyone wanted to soak up all that Mother Burton was dishing out.
On June 23, 2021 at the age of 102. Gertrude Veronica Burton entered into eternal rest at her home in Orlando Florida surrounded by her beloved son and daughter Garfield and Pertina, caring grandson Theo and niece Linda. She leaves behind her children, sister Alicia Washington and Pertina Lewis, a host of nieces,nephews,grandchildren, great grandchildren,great great grandchildren and loving friends,
Lovingly submitted by Family
To send flowers to the family or plant a tree in memory of Gertrude Burton Smith, please visit Tribute Store
Viewing
10:00 am - 11:00 am
Friday, July 9, 2021
Bethlehem Judea United Church
83 Greenwich Street
Hempstead, New York, United States
Homegoing Celebration
11:00 am - 12:30 pm
Friday, July 9, 2021
Bethlehem Judea United Church
83 Greenwich Street
Hempstead, New York, United States
Final Resting Place
1:30 pm - 2:00 pm
Friday, July 9, 2021
The Evergreens Cemetery
1629 Bushwick Avenue
Brooklyn, New York, United States
Share Your Memory of
Gertrude

Gina M. Mitchell | NYS Licensed Funeral Director | (516) 991-8613