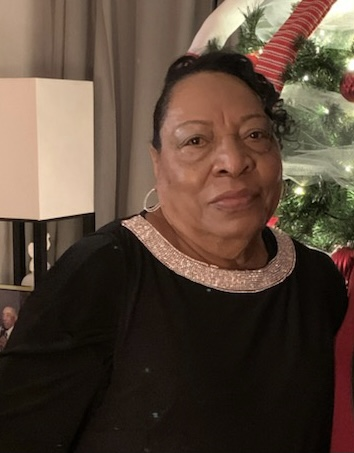 Obituary of Annie Mae Dubois
Please share a memory of Annie to include in a keepsake book for family and friends.
In 1944 on the 8th of March, Baby Annie Mae Jacobs DuBois blessed her mother Elsie and step father Eddie Jacobs with her cuteness in Burgaw, NC. Sadly she departed this life on February 7, 2021 in Freeport, NY.
Annie Mae was educated in Burgaw County Schools. She graduated in 1964. After graduation, she saw a flyer looking for Domestic workers in NY. She saw an opportunity to leave North Carolina for a better life. Ann came to New York to work for Arlene Granet's family and Rennie Maltz's family, were she did domestic work/childcare/cook for over 20+ years, and they loved her as part of their families. Ricky, Randy, and Robin Maltz referred to Annie as a 2nd mom.
Ann as she was affectionately called, was blessed with 2 daughters, Cathy and Diane. In 1966, she met a widower, Mr. Morris "Sam" DuBois, who had 4 children Sandra, Morris, Jr, Sheila and Eugene. Together they join forces and blended their families. To this union they added a baby boy, Frank also known as Champ, to the bunch.
Ann loved life and enjoyed being a part of the local Elks Club, were they hosted dances with live bands. They supported their children in local sports in town. She LOVED playing BINGO. She hosted games such as Poker, and Spades. She enjoyed traveling to Atlantic City. As you can see she was a risk taker!
Ann loved her large family. You were guaranteed an invite to backyard barbecues several times a year. She was a socialite, she packed their home for birthdays, Thanksgiving, Christmas and New Year's Eves. There was always a party at her house.
Her husband being from New Orleans, she mastered making Seafood Gumbo.
Cooking was her pride and joy, Gumbo, Turkey wings and gravy, Tea cakes, and Collard Greens, just to name a few of her favorite dishes.
In 1981, their daughter Sheila Marie passed away leaving 3 children, Monisha, Chevelle and Zanyea. Ann and Morris, committed to keeping the children in the family and took responsibility of them. In 1987, Morris passed away. Leaving their 7 children, 2 additional children, Philip "Pop" and Sophia, and 3 grandchildren in her care. Ann kept the commitment, she kept love going and the parties going.
Preceded her in death, her parents, Elsie and Eddie Jacobs, her brothers, Freddy and Ray Jacobs. Husband Morris, 3 children Sheila DuBois, Philip Pop Silvers and Sandra DuBois Wilcher; 5 grandchildren, Brittany Jacobs, Karen DuBois, Eugene Shelton DuBois, Marcus Wilcher and Samarah Irving.
Ann leaves her loving daughters, Cathy, Diane, and Sophia, Roosevelt, NY; sons, Frank (Dawn) Jacobs, Mansfield, TX, Morris DuBois, Bronx, NY, Eugene DuBois, Columbus GA. 21 grandchildren, Ronnell, Vanessa, Savannah, Sam, Kyla, Dallas, Angel, Twangna, Tinisha, Krystal, Jermaine, Monisha, Chevelle, Zanyea, Carmina, Ebony, Philip, Jr, Marcus, Briana, Lashayla, Malayna. 41 Great-grandchildren, and 7 great-great grandchildren. Devoted and loving companion, Michael Glenn. Best friend for 60 years Cathy Moody. One uncle, McKinley aka Kenny (Althea) Jacobs, Brooklyn, NY; One sister-in-law, Betty DuBois, Freeport, NY. A bunch of nieces, nephews and other relatives and friends.
To send flowers to the family or plant a tree in memory of Annie Dubois, please visit Tribute Store
Share Your Memory of
Annie

Gina M. Mitchell | NYS Licensed Funeral Director | (516) 991-8613