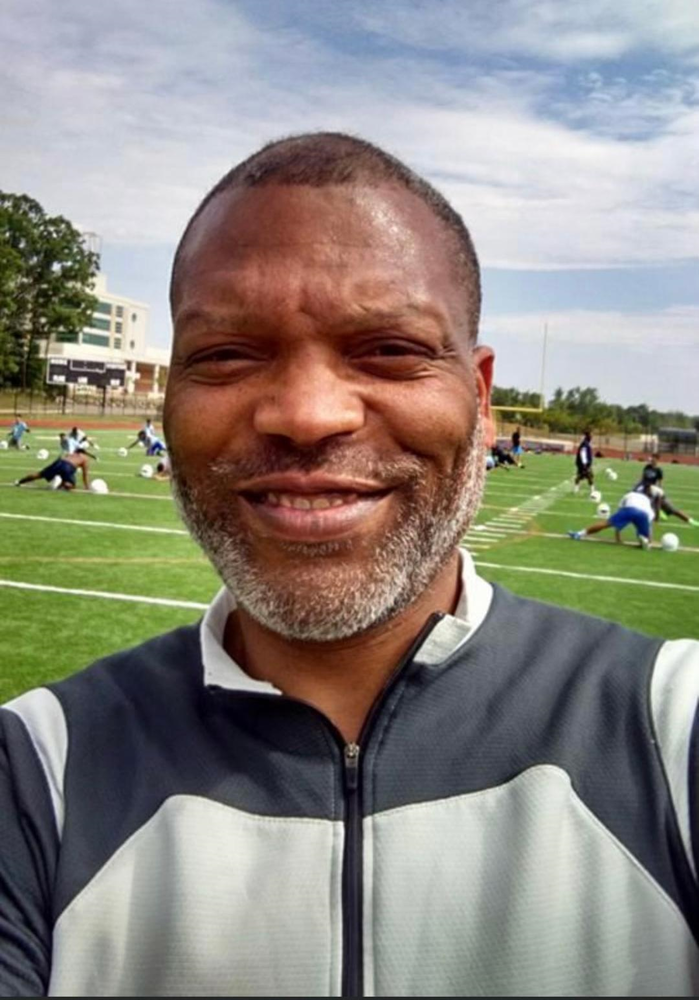 Obituary of Antonio Merritt
Antonio "Tony" Lamar Merritt was born on July 19th, 1966 in Jersey City, New Jersey. He was the second to Charles and Jewell Merritt. As a child he was consistently found joking, laughing, and intellectualizing. Even though Tony may have started as a boy with bleak beginnings, he became a man of a plethora of achievements.
He started his football career with the Westside Jets. In addition, once he laced them up he began as a Left Offensive Tackle. Then, in a heated race with his brother Clarence he jumped down a flight of stairs to secure a narrow victory. However, this jump actually caused his ankle to break. With that being said since he couldn't run and his passion for the game increasing he decided to obsessively work on his arm. The next year he was starting Quarterback for the Westside Bears and he led them to a little league championship. In 1984 he capped off his senior year and decided to take his talents to Nassau Community College. Here, he became the first All-American Football player in school history. After recruitment from Magic Johnson he committed to Michigan State and would join a roster amongst some of the greatest talents in college football. Such names as Lorenzo White, Andre Rison, and Alabama head coach Nick Saban. After a couple years In East Lansing Antonio was then able to live out his National Football League dreams. In the late eighties an African American Quarterback was egregiously rare. Moreover, he was still able to complete the task at hand. Antonio played for the Denver Broncos and The Washington Football Team. He was truly a trailblazer who helped pave the way for MVP'S such as Lamar Jackson and Patrick Mahomes.
In his later years he ventured into the Culinary arts. Tony studied at the notable Schoolcraft College. Eventually, he went into business for himself and created Connections Catering. When he wasn't searching for exquisite ingredients at Detroit's esteemed Eastern Market, he resided at home making pizza from scratch. Many nights you may catch him cleaning his pots or explaining idiosyncrasies between Japanese Gyuto and German Grand Prix knives. He rounded out his cooking career teaching students via Hazel Park High.
Antonio was also a devoted husband and lifelong partner to Londa Lovell, Jewel Mays, and Sonya Delley. He has three children Lamar(the cool one), Phebe and Kahlia. Antonio also had a bevy of siblings such as Clarence, Randall, and Randolph to name a few. He loved his family with all his heart and constantly let that be known.
All in all, Antonio "Tony" Lamar Merritt was absolutely a man of incomparable feats. Today, he stands as the only person inducted into the Dickinson High, and Nassau Community College Hall Of Fame. However, perhaps his greatest endeavour is that he inspired us all to achieve our dreams and never give up on our lust for life.
Written by, Lamar Merritt
To send flowers to the family or plant a tree in memory of Antonio Merritt, please visit Tribute Store
Viewing
5:00 pm - 7:00 pm
Tuesday, April 27, 2021
Bethlehem of Judea Church
83 Greenwich Street
Hempstead, New York, United States
Homegoing Celebration
7:00 pm - 8:00 pm
Tuesday, April 27, 2021
Bethlehem of Judea Church
83 Greenwich Street
Hempstead, New York, United States
Share Your Memory of
Antonio

Gina M. Mitchell | NYS Licensed Funeral Director | (516) 991-8613