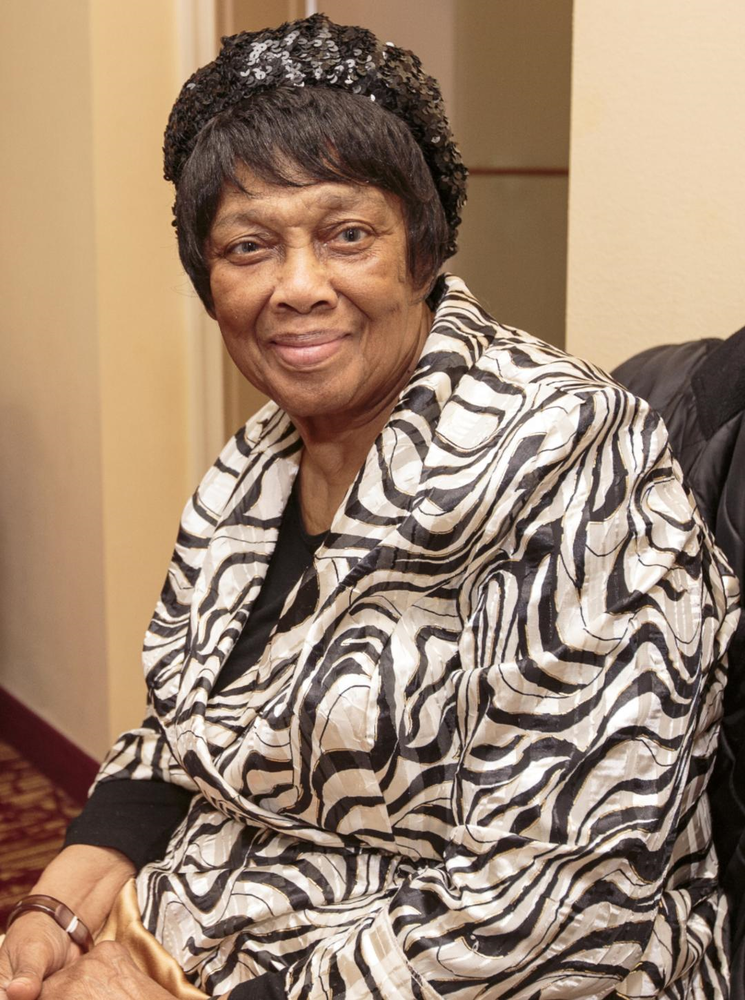 Obituary of Margaret Moultrie
Please share a memory of Margaret to include in a keepsake book for family and friends.
Obituary of Mother Missionary Margaret Moultrie
On Sunday, January 24, 2021 Margaret Moultrie transitioned from this life to her heavenly home at 3:55am. Margaret Mickens was born on June 28, 1938 in Salters, South Carolina to the parents of Ada and Frank Mickens. She was the oldest of 12 children. Her schooling started in September of 1944 but ended at the seventh grade. Because she was the oldest child, she was often required to help her mother with the chores and tending to the other children at home.
In June of 1958 Margaret got married to Lonnie Douglas Moultrie and from this union they had four children. Soon after the marriage, Lonnie migrated the family to Philadelphia to pursue job opportunities. Due to unforeseen circumstances Margaret relocated to New York with her family. While in New York she obtained employment, working often times as a housekeeper in various hotels.
Even though Margaret only obtained a 7th grade level education, she always had a desire to improve herself which led her to attend courses at Boces. It was at Boces where she made friends with the late Sis. Ruby McNeil. It was Sis. McNeil who later introduced Margaret to Progressive Holiness Church of Hempstead in 1976 where she was baptized in Jesus name and was refilled with the precious gift of the Holy Ghost. Upon joining Progressive, Margaret Moultrie worked faithfully in the church. She served as a Missionary, an Usher, and participated in various other auxiliaries. She also loved to help with serving communion as well as being a member of the Gospel Choir. One of her favorite songs was "He's an on-time God." She enjoyed singing for the Lord! After many years of dedicated service, Missionary Margaret Moultrie was appointed a Church Mother by Pastor and Mother Simpkins. She was fondly known to many of the young people and the saints as "Grandma Moultrie."
She always liked to be doing something. As her health slowly declined, it was hard for her to realize she couldn't do things she used to do anymore. In September of 2013 Mother Moultrie became a resident of the Nassau Extended Care Facilities. However, she never lost her love for the Lord and the House of the Lord. She continued to come to Progressive whenever her health permitted. Periodically, Mother Moultrie would also accompany her youngest daughter, Patricia Varner, to the Bethel United Pentecostal Church where they embraced her with much love and affection.
Being her sole caregiver, Patricia made every effort to keep her mother's spirits up as best as she could and continued to do so even after Mother Moultrie moved into the nursing home. Patricia would take her mother to church every Sunday and then eat dinner with her. When the pandemic hit, it was heartbreaking for both of them not to have that time together anymore. However, eventually Patricia was able to see her mother through tent visits, FaceTime, and kept in contact with her by telephone until the very end. Truly all that knew her will miss her; but God loved her best!
Mother Moultrie leaves to mourn
Her children: Jimmie D. Mickens Sr. (Katherine), Mark Moultrie Sr. (Cassandra), Hermena Cumbo, and PatriciaVarner (Kenneth);
Her grandchildren, Jimmisha Mickens, Jimmie Douglas Mickens Jr. Lynashia Mickens Godfrey (Kevon), Mark Christian Moultrie Jr., Markus Moultrie, Rose Devin Mouzon (Jonathan), Erica Hooper (Robert), Steven Cumbo (Audree), Olivia Cumbo, Kemeil Thompson (preceded in death), and Lisa Coleman (Harold).
Her siblings: Margie Croker, Edward Mickens (preceded in death), Maebell Mickens, Henry Mickens (preceded in death), Abraham Mickens (preceded in death), Paul Mickens (preceded in death), Silas Mickens (preceded in death), Roosevelt Mickens (preceded in death), Dolores Washington (adopted daughter), Blondell Daniels, Elizabeth Burges, and Donald Mickens (preceded in death).
More family: a host of great grandchildren, nieces, nephews, cousins, friends, loved ones, and church family.
Submitted In Love
By The Family
To send flowers to the family or plant a tree in memory of Margaret Moultrie, please visit Tribute Store
Share Your Memory of
Margaret

Gina M. Mitchell | NYS Licensed Funeral Director | (516) 991-8613