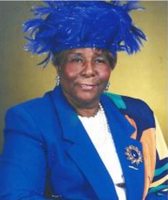 Eardie Fenner
Sister Eardie Fenner, the daughter of the late Thaddeus and Addie Johnson was born on April 7, 1930 in WestMoreland County Pennsylvania.
At the age of six she moved to Halifax North Carolina after the passing of her mother where she was raised by her Aunt Peggy and Aunt Rose.

At a early age she was baptized at the Cedar Creek Baptist Church. She was educated in the Halifax school system.

Sister Fenner lived in Enfield North Carolina where she met her late husband Zaro Fenner. They were united in holy matrimony on October 22, 1949. Out of this union came two daughters and six sons.
Both Zaro and Eardie worked as sharecroppers.
They decided by a vision given by God in 1960 to move their family up north to prepare a better life for their family. Eardie was a strong woman of faith and wanted the teach her children the value of hard work, the importance of education and religion. She loved her family and gave them the greatest gift any mother could-the love of Christ and the church. She wanted the best for her family.
She raised her family along side husband Zaro in Roosevelt, NY where they purchased their dream house where their children could call home.
Eardie was a hard working mother who began her career working as domestic. As a young ambitious women Eardie set out to better her career. She began working for Cornell Corporate Extension services of Nassau County ,where she worked as a Nutritionist and counselor. For over 20 years she taught people in her community how to eat healthy and manage a monthly budget.

She joined Antioch Baptist Church under the leadership of the late Rev. James L. Burrell where she severed as a missionary for over 40 years. Sister Fenner loved the Lord. No matter where she was she would find the house of the Lord for worship.
Sister Fenner was preceded in death by her siblings; Clearance Floyd, Ranson Floyd, Roosevelt Richardson, Beacheres Smith, daughter-in-law, Wilamenia Fenner; daughter, Annie Pearl Fenner; son, Columbus Fenner; and 3 grandchildren, Raymond Earl Fenner, Jr. and Rachel Faith Fenner, Collette Dorcel Mitchell. She leaves to cherish her memories her six children, daughter, Scarlet Boney of Newport News, VA; sons, Cornelius, James, Raymond, David, and Johnny Fenner (Vynnene) all of Long Island, NY; of New York; 23 grandchildren; 58 great grandchildren; 16 great-great grandchildren, a host of nieces, nephews and relatives; her church family and loving friends.