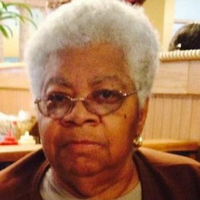 Doris C. Amar
Doris Amar is a native of Hogansville, Georgia . One of six children , born to Thomas and Lillie Mae Jennings on March 19th , 1942. She was baptized at an early age at Bethel Heard Baptist Church, under the leadership of Rev . T.H. Reeves. After completing High School, Doris relocated to New York and attended Nassau Community College where she received a certificate in Classical and Office Procedures. She retired from Nassau County Department of Social Services after 30 years.
On February 24th, 1967, she was United in Holy matrimony to James E. Amar. From this union God gave them three children, Thayer Amar Garrett, Cheryl Amar, and James A. Amar. Also a step daughter Jill E. Amar. In 1972 or 1973 , She united with the Mt. Sinai Baptist Church in Roosevelt, under the auspices of the late Rev. A.L Mackey , Sr. serving in many capacities. She served as a Sunday School Teacher, Pastor's Anniversary Chairperson, Women's Day Chairperson , Churches Anniversary's Chairperson, Kitchen Ministry, VBS Assistant, and served as the president of the missionary circle for the past 17 years under the leadership of Rev. A.L. Mackey Jr. In addition to those tasks she enjoyed cooking, sewing, gardening and doing word searches and crypto quote. Doris and James would've been married for 56 years.
She leaves to mourn her husband James E. Amar, her three children Thayer Amar Garrett, Cheryl Amar, James R Amar and step daughter Jill E. Amar. Her four grandchildren, Tarique Rivers, Chelsea Amar, Cheyenne Amar, and Nia Amar. She also leaves her sister Carrie (Philip) Hall of South Carolina and James Jennings S.r (Carol) of Georgia. She was pre-deceased by her brothers, Willie and Walter of Georgia and her sister Catherine of Georgia. Her grandchildren Kenneth Garett II and Mackenzie Rose Amar. She also leaves her three great grandchildren, Kenneth Garrett III, Jacob Amar, and Aria Jade Rivers.
Lovingly Submitted,
The Family