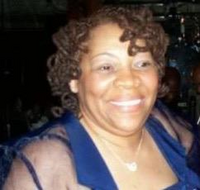 Vanessa Miles
CELEBRATION OF LIFE – HER STORY
Vanessa Marie Greene Miles was born on April 19, 1960 in Kings County Hospital, Brooklyn NY to the union of the late Vera Lee Jackson and the late William A. Greene. Only God in his infinite wisdom knew that this baby would one day be used to bring about a wonderful change to so many children's lives.
Vanessa's formative school years were mostly in Queens, NY yet they kept their roots in Brooklyn where her and her family were members of Mt. Sinai Cathedral Church of God in Christ where the late Bishop Clarence L. Sexton Sr. was the Pastor. It was here at a young age that Vanessa accepted Christ in her life. As the third oldest child of six children, she always had a very calm soothing spirit usually being the one wanting to keep peace in the midst of family situations.
Vanessa and her family eventually moved to Long Island where she graduated from Freeport High School. Once they relocated, they found a new church home and became members of First Church of God in Christ, Hempstead NY under the leadership of the late Bishop E. L. Woodside Sr. Vanessa never changed from the love God showed her for she in turn extended that same love to others. Vanessa loved to bake, sew, and spend summer vacations with her family and friends in Greenport, Long Island.
In her younger years Vanessa was married to Ervin and they were blessed with two children; Vera Shatica and Tylique Nassir Jones Bey (formerly known as Ervin Kyle). Vanessa loved her children dearly always making sure they were cared for in every way possible. She always wanted her entire family to have a good time during Christmas as she decorated, amongst other things, making sure they enjoyed themselves immensely. Vanessa enjoyed traveling and making others happy. She had a strong sense of community and loved to bring people together to celebrate.
Though being a young mother, she never stopped pursuing her dream of educating others. She eventually continued her education and earned her Bachelors and Masters Degree in Early Childhood Development from Adelphi University. Vanessa dedicated her life's work as a 1st Grade Teacher at Centennial Avenue Elementary School, Roosevelt, NY under the leadership of Dr. Barbara Solomon, Principal whom she held dear to her heart. She was very passionate about education and became one of the most selfless educators at Centennial with a heart of gold.
Vanessa cherished her lifelong companion of over 30 years, Charles. Together they were a team always supporting one another through all of life's challenges. During her two-year battle with her illnesses she endured multiple medications and treatments during the pandemic still working to ensure that her students received the education they deserved. One of Vanessa's favorite quotes is; "God bless the child that has their own" and she stopped at nothing making sure she imparted this knowledge to those she loved.
Vanessa was preceded in death by her mother, father, sisters; Lydia and Robin, brother; William, and niece; Zulema whom she loved and adored.
To cherish her memory always: Her devoted and loving companion Charles; her beloved daughter Vera; her son Tylique (Ervin); her sisters Lorrie Greene (Martine), Lila Washington, her relatives Gloria Murrain, Clarissa Curtis, Donald Curtis, James Curtis, Daniel Curtis, Jermaine Greene, Lena Brown, Monay Murrain, Lajay Dunbar, Tiarra Rochester, Sirlord Rochester, Jenaisa Greene, Mya Greene, Zalydia Wright, Jayden Dawkins, Kali Moore, Quran Moore, Trina Lobban, Sharon Brown also her close friends Carolyn Bush, Cathy Kulins, Lisa Ferrara, and Mrs. Terry and her many students both past and present at Centennial Avenue Elementary School.
Vanessa will forever be missed, loved, and cherished.