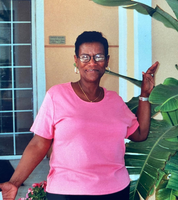 Verbert Hobson
Verbert Hobson was born on December 27th 1945 to Katie Crosby(McCummings) in Birmingham, Alabama. In her early years she relocated with her family to Harlem, New York. Verbert completed all levels of education in the New York City Public School System.
After completing high school she went on to attend Baruch College in Manhattan. After college she started working for the NYPD training bureau for a few years. After her stint with the NYPD, Verbert settled into to what would be her career working for the Social Security Administration in the Bronx. She eventually relocated to Roosevelt, N.Y. With her partner David Horton Sr. along with her two sons Edward Hobson and David Horton Jr. Where she would spend her remaining years.
Verbert was a loving, caring, and thoughtful person who enjoyed traveling, cooking, talk shows, and casinos but enjoyed family even more.
Verbert is preceded in death by her mother Kate McCummings her partner David Horton Sr. and Her sisters Dolores and Nicole McCummings.
Verbert is survived by her sons Edward Hobson and David Horton Jr. her step daughter Tonya Horton her brother Arthur McCummings as well as a whole host of Sister in laws, nieces, nephews, cousins and friends whom she cared about deeply and prayed for often.