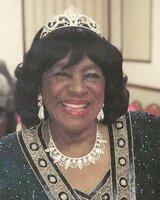 Jerrie Smith
"Many daughters have done virtuously, but thou excellest them all. Favor is deceitful, and beauty is vain; but a woman that feareth the Lord, she shall be praised. Give her of the fruit of her hands; and let her own works praise her in the gates," Proverbs 31: 29-31
Jerrie L. Smith, daughter of Ida Mae Forbes, beloved and highly respected by family, friends, and all whose lives were blessed to cross hers, was born on April 13, 1938, in Birmingham, Alabama. After several years of illness, she transitioned from life peacefully, on Tuesday, October 25, 2022. She was a kind, loving, nurturing, elegant lady with a big heart and fresh sense of humor who had a unique zest for life and living. Jerrie was well-known by her infectious smile and greeting of endearment, 'Sugar.' Sugar, Honey, Baby have always served as expressions used by many southern women to help others feel comfortable. The grandchildren, lovingly, called her "MeMe," their expression of endearment.
Upon graduation from the prestigious A.H. Parker High School, Birmingham, Alabama, where she sang in the choir and participated in various clubs; she relocated to Freeport, New York and continued her education at Hofstra University, Hempstead, New York, earning a Bachelor of Science and Master of Science in Secondary Social Science. Jerrie's birth and upbringing in Birmingham, a city synonymous with the Civil Rights Movement, provided the impetus for her life's work as servant-educator to tell the story of United States History. And so, she shared the story each day, for 30 years with students at the Roosevelt Middle School, Roosevelt, New York. She caringly provided instructions with a nurturing and encouraging spirit as her classroom was a special setting for academics as well as emotional and social support. It served as a safe haven for students who knew if they could make it to room 207, everything would be alright. Additionally, during her tenure, Jerrie guided the positive direction of students through many extra-curricular activities; Class Advisor, Program Chairperson, Tutor and much more; while also serving as a teacher in the Roosevelt MAX Project, engaging students in the research and study of the United States Civil War.
While in high school, Jerrie met and fell in love with Ural Smith, Jr. and these high school sweethearts were later united in marriage in Freeport, New York, and to this union, two wonderful sons were born, Ural Bruce and Jayson Ryan. Jerrie and Ural spent many enjoyable moments working together, traveling and supporting a multigenerational home that became a warm sanctuary to all who entered.
As a lady of style, she was always well-dressed with a fashionable outfit, gloves, matching hat, shoes, bag and we can't forget the chic jewelry. In recent years, time brought about a change in the height of her heels, from 3.5 inches down to 2 inches. She was fashion forward in her style, while she looked good on the outside, she was loving and good on the inside.
Jerrie began her spiritual walk with the Lord at a young age in Alabama and continued her walk at Mt. Sinai Baptist Church, Roosevelt, New York, where she and her family served for many decades. She was a hard-working, devout and faithful member who served in numerous capacities- Sunday School Teacher, Musician, Scholarship Chairperson, Organized programs and activities, and much more. The Word tells us that we are known by our love for others and certainly Jerrie's life is testament of her love, for she treated everyone with Godly love and kindness, and is well-known throughout Roosevelt-Freeport and Nassau County for her extraordinary ability to assist, encourage and help to make life better for others.
Her community-mindedness lead her to join organizations that supported school and community growth- Central Nassau Club of the National Association of Negro Business and Professional Women, Inc., National Council of Negro Women, NAACP, and proud member of Alpha Kappa Alpha Sorority, Inc., Pi Pi Omega Chapter, Westbury, New York. Jerrie joyfully served in various roles in each organization. She had a loving spirit and giving heart to all members. Jerrie was the recipient of numerous awards and honors including the distinguished Roosevelt School District Employee of the Year.
She is preceded in death by her best friend and husband, Ural Smith, Jr., her parents, Rev. Simeon and Ida Forbes, dear friend, Raymond Campbell.
Jerrie fought a good fight, finished the course, kept the faith and is now receiving her reward. Left to treasure her memory and continue her legacy are –Devoted Sons and Daughters-in-Love, Jayson Ryan (Kara) Smith, Ural Bruce (Lisa) Smith; Loving Grandchildren- Taisha, NajeeAna (Marie), Madisan, Jayson Jr., Ellis; Dear Great-Grandchildren- Jakhi, Jaheim, Nola, Niko, Noah; God-Children- LeAnn, Sandra and Derice; a host of cousins, friends, former students and staff.