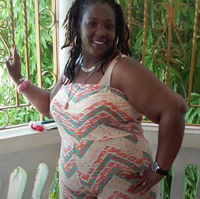 Erica Errolin Coke-Hood
Erica Errolin Coke-Hood was born on February 08, 1972, in Montego Bay, Jamaica. She was the daughter of the late Icilda Tugwell and Calvin Coke. She was widow to the late Patrick L. Hood.
Erica or mommy as she was affectionately called was raised and educated in St. James Jamaica where she later migrated to the United States to create a better future for herself and her children. She adored her children, grandchildren and great grandchild and went above and beyond for them. Erica was a devoted mother, mentor, and friend to all who were lucky enough to know her, her vibrant personality draws other to her as she lights up and command attention without trying.
Erica was a woman of many talents, she loves to dance sing and make all kind of creative art through her sewing, knitting and embroidery, and don't forget her cooking! You can smell her cooking from a mile away, One bite of her cooking and you're in heaven.
On Tuesday May 24,2022, she made her last phone call and text filled with laughter and guidance to her children, on May 27,2022, God dispatched and angel to bring her home to rest.
To cherish her memories are her six children Kenroy Wallace (Valecian), Keneisha Ricketts, Kimoy Asphall (Jameel), Eroline Stephenson, Sheree Stephenson-Witcher (Joshua), and Patrick L. Hood; two brothers Courtney Reid and Donavon and one sister Veronica Grant; thirteen grandchildren; Kenesha Wallace, Za'ryah Williams, Gabriel Brown, Zuri Wallace, Ethan Asphall, Liam Asphall, Sameer Wallace, Mina Witcher, Kal-el Asphall, Aries Witcher and Lenox Williams; and one great grand Alejandro Spence, as well as a host of nieces, nephews and extended family and friends.
Erica was predeceased by her daughter Talisha Stephenson, parents Icilad Tugwell and Calvin Coke and one brother Patrick Farquharson.