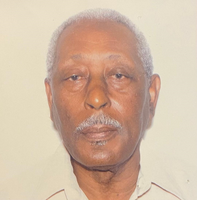 Roy Brydson
Roy Lanford Brydson , 84 of Brentwood NY passed away on October 21, 2021.
Roy was born on December 5, 1936 to the late Lester and Iona Bolton Brydson in Jamaica W.I.. After high school he joined the Jamaica Defense Force where he was a soldier for several years before moving to England. He spent more than 10 years in England and then he eventually moved to the U.S. where he settled and made his final home. After having numerous jobs his career began and ended at Holly Patterson Extended Care in Uniondale NY where he retired in 1998.
Roy was loved by all who knew him and will be remembered for his love of the Lord, family and friends. He's a member of St Boniface's Episcopal Church in Lindenhurst NY where he enjoyed fellowship and being amongst his church family. He also loved to cook, watch baseball and listen to music.
Roy leaves behind his wife Ellofay Martin Brydson, daughter Melissa James & son-in-law Duane James, his sons Eddie, Courtney, Roy Brydson Jr. & daughter-in-law Lisa Brydson, his step sons Lafford, Sylvan, and step daughter Beverley Benjamin & step son-in-law Carl Benjamin, his sister Claudette & Brother Wilbert. 4 nieces Ann, Michelle, Janet, Alwin Dunbar and nephew-in-law Tony Dunbar…as well as several grandkids & grandnieces & grandnephews.
He will be missed dearly but we are comforted knowing he is at peace.