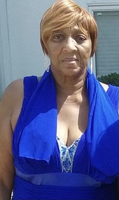 Thelma Grandison
Thelma Zona Grandison also known as GG was born on 10/20/1947 in May Pen Clarendon Jamaica W.I., Born to Carmen Wear and Ivan Grandison. Thelma was the 1st born of 15 children 9 from her father Ivan and 6 from her mother Carmen.
Thelma attended May Pen Infant School , Teacher whiteman Private primary school and graduated from Teacher Brown High School. Upon completion she met Hardley Black and on April 26, 1963 they welcomed their 1st born Janet Angela black. The following year Thelma she was blessed with her second child Carol Monica Graham with Ivan Graham.
In 1975 at the age of 28, she then migrated to Ontario Canada where she began her career in the nursing field. A few years after, she then relocated to America and resided in Queens NY where she continued her nursing career for the next 35 years. Once Thelma relocated she quickly started the process of getting her two daughters and her grandchildren to come and live with her in America. Thelma was the beloved grandmother to 3 grandchildren Margo, Milton and Jerome and 8 great grandchildren Kayla, Kianna, Keawan, La-Kayla, Ronako, katelyn, Chaniya and Kemmoya.
Thelma was the Matriach of her family, her ever pleasant and easy going attitude brought so much joy to her family and friends. She was smart, funny ,sassy and down to earth and can be a little crazy. Always willing to give her last but never asks for anything in return. ( "even tho she never have more than a dollar to buy her lotto ticket or her diet pepsi) :family joke: she leaves behind her family and friends who loved her so much and she will be greatly missed.
" We have an angel in Heaven watching over us, we call her Thelma (GG) "Sisa" Grandison forever in our hearts"