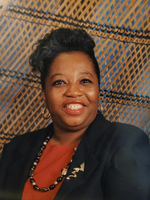 Gloria Ann Chapman
Gloria Ann Chapman was born at home, 55 East Sunrise Highway Freeport, NY on Dec. 19th,
1948 to the late John William Clayborn and Katherine Jones Clayborn. She was the second of
ten children. She received her formal education in the Freeport Public School system. At a very
young age Gloria had a love for numbers and excelled in math. In her younger years, Gloria
was very athletic and enjoyed roller skating, softball, basketball and was excellent at jumping
double-dutch. In 1967 after graduating from Freeport High School Gloria attended Nassau
Community College majoring in Accounting. Then in 1969, Gloria married the love of her life
Otis P. Chapman, Jr. and from this union came two beautiful daughters, Ladonna and Chiffon.
Gloria worked at Long Island Trust Bank later renamed Bank Of New York, servicing the
Freeport community, early in her career as a bank teller. Following her years of commitment
and professionalism she then became manager of the customer service department. Retiring
after 25 years of dedicated service to the banking industry in 2003. She knew all her customers
at the bank and one day an unknown elderly man walked in the bank and insisted that "she only
take care of him." GOD has always had HIS hand on Gloria's life. This stranger presented her
with a bag filled with old coins. Gloria's first response was that he should take the coins to a
coin shop as they may be very valuable, but the man insisted that she keep the coins. Because
he had plenty more and urgently needed to buy a piece of medical equipment for his ailing wife.
He was adamant about her having the coins. The branch manager allowed Gloria to have the
coins, she took them to a coin shop and the coins were worth thousands of dollars. Gloria then
realized why the Holy Spirit had placed her on a liquid fast for several weeks prior, allowing her
to only drink and read the Bible while secluded in her room; until it was time to go to work each
morning. She then understood this was a defining and pivotal moment in her life. Gloria knew
the Lord Jesus Christ had heard her cries and he answered her.
She then joined her family's home church, Greater Second Baptist Church of Freeport, NY
under the leadership of Dr. E. Mitchell Mallette Sr. and accepted Jesus Christ as her Lord and
Savior. Gloria remained a devout and active member for decades as an energetic servant of
God; she served many functions on various committees and auxiliaries within the church.
Faithfully serving as the chairwoman of the Trustee Board, the Golden Age Society treasurer
and the Floral Club. Under the leadership of Dr. Reverend Eric Charles Mallette until she was
called home. Following in her mother's footsteps, Gloria always focused on the Lord and being
of service to others.
Upon her mother's death she became the matriarch of her family. All her siblings looked up to
her. Gloria's warm tender spirit kept the family together. She loved her relatives dearly and
family meant everything to her. She took great pleasure in hanging out with all her sisters. Most
importantly when they worshiped the Lord together. She loved them unconditionally and shared
special bonds as well with her sister in laws and sister- friends whom she cared for dearly.
Gloria loved a good time and being around those she cared for. She enjoyed shopping, dining,
going to shows, seeing movies, traveling, and attending various social and family gatherings.
Gloria had a comical yet subtle sense of humor, which very often took others by surprise, with
love and humor she would mentor even her friends and family. Giving good advice, honest
opinions and always dependable, there for her family and friends when they needed her.
Gloria enjoyed working with the Memories of Bennington Park group. She adored bringing
people together to have fun and loved dancing. She dedicated her time to His Daughter's
House Outreach mentoring at-risk teenage girls by exposing them to religion, arts & culture.
Her goal was to help them obtain hope and focus towards positive ways to a better future. While
introducing CHRIST to those who didn't know HIM and the possibilities for a brighter future.
Gloria was a dedicated and nurturing mother who instilled God, love and respect in her children.
She was an affectionate, warmhearted, loving woman who always wore a beautiful smile. She
loved helping and comforting others. She was a true woman of God who enjoyed being on the
go. Sharing the Good News of Jesus and her vibrant personality with the people she
encountered until health issues slowed her down.
Gloria peacefully slipped away from us, with both daughters by her side. Her soul winged flight
from this world of sin, sorrow and pain to Heaven for eternal rest on Dec. 31, 2020.
Our beloved Gloria Ann Chapman was preceded in death by her parents John William Clayborn
and Katherine Clayborn, her husband Otis Patrick Chapman, Jr. her mother in law Mollie Kate
Chapman and father in law Otis P. Chapman, Sr., two brothers Charles Clayborn, Wayne
Clayborn, two sister in laws Patricia T. Delain, Anita Clayborn; and brother in law, Earl Key and
niece, Nykeeda Key.
Now resting in his arms she leaves to cherish her memories two loving daughters: Ladonna
(Thomas ) Taylor, Chiffon (Kenneth) Griffin; and her embraced children: Naseer, Malika and
Tauriqah Carter; five step children: Rosalind, Darryl, Tylib, Akiera and Quame Chapman; eleven
grandchildren: Tanyria (Anthony) Byers, Khyree Griffin, Umari Taylor, Tekhi Taylor, Kaiere
Griffin, Ashard Griffin, Brandi Chapman, Tajanae Griffin, Tahlik Taylor, Jabriel Porter and Leiya
Conklin; two great grandsons: Anthony Byers Jr., and Blake Chapman; five sisters: Patricia
Key, Mary Clayborn, Paulette Clayborn, Kathy Clayborn, and Beverly (Michael) Brown; two
brothers: Harold Clayborn and John W Clayborn, Jr.; two sister in law: Shirley Campbell and
Beverly Clayborn; three additional embraced daughters: Cassandra Walker, Yolanda Walker
and Joleen Vailes and a host of nieces, nephews, cousins, and friends and her Greater Second Baptist Family.
Special acknowledgments to Gloria's sister-friends, Brenda Hampton and Diane Vailes.