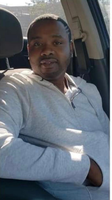 Akeem Smith
Akeem Smith, the son of the late Angela Smith & Tremond Vailes, grandson of the late Mary Smith, James Sibert, and Louise Vailes was born May 11, 1984 in East Meadow, New York. He attended the Freeport School District, where he proved to be very Athletic. He excelled in basketball, winning numerous MVP awards in and out the School district.
Akeem aka Hoff by his peers, had a giving heart of gold. No is a word he rarely used. Everyone he knew and loved ,he made feel special in his own unique way. If you needed help, he got it for you. And if he didn't have it , he would say hold on...When do you need it by? I'm going to get it for you. At times he gave his last, but never gave it a second thought because that's the kind of person he was. He loved spending time at home especially eating dinner or barbecuing (well we know he was eating) with his cousins of the home Armani & Jakye his sister Sami and Aunt Landa whom he held very close to his heart.
In 2002, Akeem welcomed his best friend and baby girl Shyasia in to the world. He was the definition of a girl dad before it became a hashtag!
In 2007, he welcomed the arrival of his baby boy Jay, who he loved to spoil. There is nothing he wouldn't do for his son.
He leaves to cherish his memory, Father Tremond Vailes (NY), daughter Shyasia Smith (NC), son Jonathan Smith (NJ), 3 sisters, Simone Vailes (NY), Cherisse Wright (NY), Samiyah Chisholm (NY), godson Jaren Reeder, cousin/driver JR and a host of Aunts, Uncle's, cousins and dear friends.