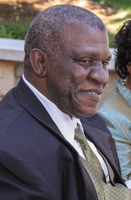 Anthony Romero Jackson
Anthony Romero Jackson was born on December 19,1958 to Shirley Green and Charles Jackson, Jr in
Avon Park, FL. He was the youngest of two boys, standing as the other half of a dynamic duo to his
brother, Bernard Jackson. Depending on when you met Anthony you may have addressed him by one of
his famous monikers; Jack, Tony or AJ. Many called him the big guy with the smile and hearty laugh.
Regardless of what you called Anthony you were bound to leave his presence chuckling about
something he said or did. He was also known to be great storyteller, jokester and an all around relatable
guy.
Growing up in the small town of Avon Park, Anthony came to realize that he was related to most of the
people in that town. Many family members kept Anthony close and helped raise, guide and dime him out
to his parents. Anthony walked a fine line balancing curiosity and courtesy to live out some of those
funny stories; we would come to learn about his mischievous childhood adventures. Anthony graduated
from Avon Park High School and knew that he did not want to go into the military like his big brother,
Bernard. Almost immediately Anthony headed to New York to be with his father, Charles. He would
teeter between Long Island, NY and South Jersey for a few years before settling on Long Island, NY.
Anthony was a man who loved to eat, cook and entertain. Throughout his life Anthony would work a
variety of jobs, and had a hidden talent of drawing. He built a career working in the kitchen, Anthony
once trained as a sous-chef, worked with catering companies and later in his life worked as a butcher
ultimately with King Kullen for over 13 years until his death.
Family was everything to Anthony, color nor blood origins mattered. If he considered you family then the
conversation was dead and no further questions were asked. Anthony loved his children beyond
measure and would do anything for any of them. Anthony parented from an old school child-rearing
approach and wanted the best from his children, so he pushed and encouraged and never turned his
back. He was also quick to step in and act as a surrogate dad, mentor, uncle or big brother to many
throughout his life to help those in difficult positions.
Anthony is preceded in death by his mother Shirley Green, a daughter, Tonia Jones, his grandparents
and other loved ones. Anthony is survived by his father Charles Jackson, Jr., and his legacy will live on
through his children Shontè Jackson, Mintora Jackson, Antranique Jackson-Neblett, Ashlee Jackson and
his "little man", grandson, Anthony. He also leaves behind siblings Bernard Jackson, Theresa Dennis
(Michael) and his "big-little brother", Jarvon Jackson. Anthony had twelve Grandchildren : Ishanna,
Shaquell, Jasique, Taeshon,Taekwon, Taeyana, Taesia, Taelah,Taeron, Raymond, and Malaki and six
great-grandchildren all will miss their Pop-Pop.
Anthony was adored by many and will forever be missed by family and friends.
The family would like to thank you for your love and support during this time of mourning.