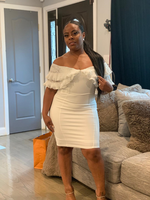 Ty Maria Brave
Ty Maria Brave, passed away suddenly on November 6th 2020. She was born on July 1st 1982 in Brooklyn New York, to Karyn and Candido affectionately known as Pito. Her Beloved Step Dad Leslie S. Burton (Civilize). Ty married Timothy Lee Brave on May 28th 2014.
Ty Graduated from Roosevelt HS in 1999, Graduated NCC, she then continued her education at Stony brook University where she received her Bacher's in Public Health.
Ty loved her family deeply. Family is everything to her. She enjoyed the togetherness. Family Friday's were always filled with love laughter and all the shenanigans with My Husband Timothy who she lovingly named "Good Time Tim"
Ty is a dedicated mother first and foremost. She treasured her children and embraced every moment with them. She especially loved her role as Auntie. She had a vivacious personality and always made people around her laugh. She made friends everywhere she went. She was always willing to help any and everyone in need.
She is the loving and devoted mother of Xiana, Zoe, Tamia and Timothy Jr. A loving step mother to Dominique, TJ, Carmelo and Mya.
Ty is survived by her brothers Anthony, Andre, Marquise and Quentin, sisters Anna Yvonne, Crystal, Staraisia, Tawana, Shaquana and Tasheba. Brother in law Taj, Marcus and Jonnie, and her sister in-law, Julissa Rivera. Her Cherished God parents Neiri, Donna and Paul. Her Aunties Linda, Tyesha, Ella, Sinclair, Pertina and Eugenie affectionally called Uncle Genie. Her Uncles, Kevin, Arther Jr, Antonio and Tubar.
Her Grandparents Tony and Maria Padilla and Gertrude Burton.
Her mother in law Maria Golden. A host of cousins, nieces, nephews and friends. Her deceased Grandparents Arthur and Martha Phillip, Stanley Burton and Candido Rivera Sr.
Our family is blended and our roots run deep and long, We are Brave, Rivera, Phillip, Burton, Lugo, Padillia, German, McLeod, Williams, Rudd, Reid, Cargill and Garcia. We are Ty's Family!!