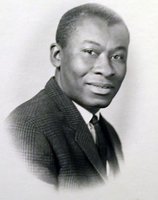 Clarence Lisandro Brown, Sr.
Clarence Lisandro Brown, Sr. was born in Limon, Costa Rica on July 26, 1931 to the late Miriam Alberta Brown and Leopold Abijah Brown. Clarence was the tenth of eleven siblings. As a very bright and determined student with a zeal for learning, Clarence graduated high school in 1951 from Colegio De Limon. He continued his studies at La Universidad de Costa Rica and earned his degree in Pharmacy in 1958.
While at the university, Clarence and his college mates all lived together, forming strong bonds and life long friendships. As fate would have it, these very friendships gave him the great pleasure of meeting his soulmate Ivonne Rose, who would later become his beloved wife of 60 years. Clarence and Ivonne wed in 1960, and from the union were born three children.
In 1963, Clarence emigrated to the United States with Ivonne and Clarence Jr. and resided in Brooklyn, New York. Upon arriving to New York, Clarence discovered his Costa Rican degree would not be accepted in the United States. Not one to be deterred, and determined to succeed, Clarence decided to repeat his studies in the United States. He earned his second degree in Pharmacy from Long Island University in the late 1960s and obtained his license to practice.
Clarence had great aspirations of owning his own business. After working some years at Cutler's Pharmacy in Crown Heights, Brooklyn, the opportunity presented itself whereby he was able to accomplish his entrepreneurial dreams and purchased Cutler's Pharmacy. Years later, he purchased his second Pharmacy called Teplets Pharmacy.
Affectionately known as Doctor Brown, Clarence was well known and respected in the community. His generous nature was admired and appreciated by many as he often made late night deliveries and gratuitously subsidized the cost of medication for his customers. He employed many members of the community as well as family members in need of work. As a true testament to how much he was highly regarded by the community which he served, during the Blackout of 1977, as scores of businesses were vandalized and looted, members of the community stood guard and defended Cutler's Pharmacy. The pharmacy emerged as the only establishment in the community to be untouched during the blackout.
In 1970, Clarence moved to Roosevelt, New York into the Brown Family home which now holds very fond memories for many. After working many years at Cutler's Pharmacy, Clarence sold the establishment and pursued other employment opportunities as a Pharmacist working at Terrence Cardinal Cooke and St. Agnes Hospitals. After retiring from those places, his dedication to his craft didn't let him stop helping others so he took on a part-time position as the Pharmacist of a local pharmacy in Freeport, New York called Thomas Pharmacy where he ultimately ended his career.
In his later years, Clarence joined Memorial Presbyterian Church where he was active in the Men's League, Bible Study and Sunday School ministries. Clarence mentored many young men in the church and throughout his lifetime, he was like a second father to many.
Clarence was preceded by his siblings Delbert, Oswald, Pearl, Leonard, Cleodine, Vivian, Una, Linda, Cleveland and Eunice and his beloved wife Ivonne. He is survived by his children Clarence Jr. (spouse Karron), Shawn (spouse Farrah) and Sheenell, his grandchildren Kayla, Caleb, Chinara, Jabahary, Yasmene, Chad and Eva, and numerous nieces and nephews.
For the donations, send a check to:
Memorial Presbyterian Church
189 Babylon Turnpike
Roosevelt, NY 11575

In the memo please note:
To Scholarship Fund
In memory of Clarence Brown

Or

Go to the link below and use PayPal:
https://www.mpcliny.org/online-giving

Choose Scholarship Fund
Enter amount
In the memo please note:
In memory of Clarence Brown
Then follow the rest of the prompts.