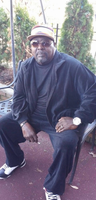 Joseph Hough
Joseph Hough, Age 65, died peacefully on Monday August 31st 2020 at his home in Freeport NY. He was born at Meadowbrook Hospital, January 4 1955 to the late Josephine Hough and Leroy Lloyd.
Joe lived in Long Beach NY with his mother Josephine Hough. He attended Long Beach Elementary School, Middle School, and High School. When Joe was young, He played football, and was also was the captain of the basketball team. He was also very well liked, and well known. His first job was at a furniture store, then he did security, then construction, then he switched to Sanitation where he has been for over 20 years until he retired.
Joe loved listening to gospel on Sunday's, spending time with the people he loved, and was the life of the party. The party did not start until he arrived. He loved dancing, singing, and shopping. He also had a passion for writing poems and was close to having one published. He also loved watching sports especially football and basketball because the Lakers, and the Giants were his favorite team. He was always making people laugh. He had a very cheerful, and carefree personality. He will always be known for matching his clothes up with his custom-made canes.
He will be greatly missed as a father, brother, uncle, and husband. Joe will rest peacefully with his mother and father, his brother Larry Hough, and sister Ruth Hough. He leaves behind those who love him dearly, and will cherish his memory forever as in his wife Betty White, his children Curtis Rainey, Melissa Cohen, Shakenya Moye, Kareem Hough, Tamika Rainey, Latisha Huffman, his step children Lonyall, Tony, Shonda, and Kalissa, his two special babies Tamaia Smith, Malik Boyd, and a host of 37 grandkids, his sister Rhonda Cole, and brother Barry Hough, and a of host nieces, nephews, cousins, and loving friends