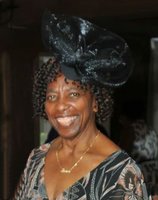 Ivonne Brown
Ivonne Brown was born in Limón, Costa Rica to the late Miriam Rose and Caleb Thompson.
In the early 1950's Ivonne went to San José to finish her Elementary Studies. She graduated High School from one of the most well-known Schools in San José called Colegio de Señoritas.

Ivonne then attended The University of San José where she earned a degree in Chemistry. In both High School and University, she was a brilliant student who was loved and respected by her classmates. She had natural leadership qualities and great determination. Most of her friends remember her as always being a kind, loving and giving person who was always willing to help those in need.

Ivonne and her sister Doris would often listen to music at their home where friends would gather. It was at one such gathering that she met the love of her life and spouse of 60 years, Clarence Brown. They wed in 1960, and from that union was born three children.

In 1963, Ivonne emigrated to the United States and resided in Brooklyn, New York. In 1970, she moved to Roosevelt, New York into the Brown Family home which now holds very fond memories for many.

Ivonne started her career with Coty Beauty and Cosmetics Company as a Chemist in the Bronx, New York. In the 1980's Ivonne began working for Revlon Cosmetic Corporation in Edison, New Jersey. After many years of dedicated service, she was promoted to a high-ranking managerial position. Her proudest achievement there was getting the approval from the Corporation to create a new cosmetic product line geared exclusively toward Women of Color. She was responsible for the supervision of all aspects of production, and the resulting product was a major success.

Upon her retirement from Revlon, Ivonne turned the page and remained constantly busy dedicating her time at Memorial Presbyterian Church to many activities, including visiting the sick and shut in. Ivonne was a Deacon and Lay Leader in her home church. Her love for people and their humanity set a shining example amongst her fellow worshippers of how to live a life of service.

Ivonne was the matriarch of the Brown and Scott families, and "family" was everything to her. She held the long standing traditions of hosting Thanksgiving dinner and New Year's Day dinner at the Brown Family home for many, many years which was an opportunity for all of the family to gather as one.

Ivonne was a passionate lover of music. She loved many genres of music from R & B, Motown, Soul, Oldies, Gospel, Reggae and Calypso. But her favorite music was Salsa, to which she loved to listen and dance the night away. On occasion when she was touched by the music, Ivonne would let out a sound of joy saying, "Woooooooooo"!

Ivonne's grace and grounded humbleness in all her endeavors in life touched countless lives within the community and left an indelible mark that will never be forgotten.

Ivonne was preceded by her sisters Doris and Norma, and her brother Ronald. She is survived by her beloved husband Clarence Sr., her children Clarence Jr. (spouse Karron), Shawn (spouse Farrah), and Sheenell, her grandchildren Kayla, Caleb, Chinara, Jabahary, Yasmene, Chad and Eva, and numerous nieces and nephews.
For the donations, send a check to;

Memorial Presbyterian Church
189 Babylon Turnpike
Roosevelt, NY 11575
In the memo please note;
To Scholarship Fund
In memory of Ivonne Brown
Or;
Go to the link below and use PayPal;
https://www.mpcliny.org/online-giving
Choose Scholarship Fund
Enter amount
In the memo please note;
In memory of Ivonne Brown
Then follow the rest of the prompts.