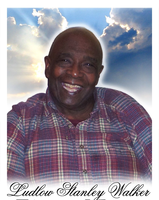 Ludlow S. Walker
On October 16, 1938 Ludlow Walker, was born to the late Ethlyn Johnson and Harold Walker in Kingston, Jamaica. He was affectionately known as Luddy, Odoe, and daddy.
Ludlow attended Ian Elementary School in Rockfort, Jamaica and later attended a vocational school where he learned the plumbing trade. At the age of 20, he was employed by Seprod Manufacturing Firm, and subsequently, Jamaica Water Supply. On July 30, 1960, Ludlow married the love of his life, Pauline Edwards.
On October 4, 1968 he migrated to the U.S. and took up residency in Brooklyn, NY with his wife and children. Ludlow was employed with Trinity Plumbing, and thereafter, employed with Sanitary Plumbing & Heating Corporation, where he retired from as a supervisor after 17 years of service. In 1974, Ludlow and Pauline bought their first home in Queens, NY, where they raised their family.
In June, 2004 he relocated to Laurel, Maryland to be closer to his son. Ludlow loved to travel to Canada and Florida to visit with family and spent weeks on end. If you knew him, he was never concerned about wearing out his welcome. Ludlow lived in Maryland for thirteen and a half years before his passing.
Ludlow love for life was contagious by his boisterous laughter and his candid sense of humor. His laughter was so hearty it would permeate through all who was around. He was truly the life of the party. In fact, he was the party. Whether there was one person in attendance or one hundred. If Ludlow was there, a party was taking place.
There was nothing he wouldn't do for those he knew, and those who crossed his path for the first time. Ludlow was a fun-filled, easy-going and amazing son, brother, husband, father, nephew, cousin, brother-in-law, father- in- law and friend.
Ludlow is preceded in death by his sister Ulrica McIntosh, brother Irving McIntosh, Jr., step-father Irving McIntosh, Sr. and grandson Andre Williams. He leaves to cherish his memory three sisters, Dahlia Frances (Ronald), Carmen Lloyd, (Wilfred) and Rosemarie Anglin (Hugh); two brothers, Patrick McIntosh (Fay), and Wycliff McIntosh (Vershonn); his true love Pauline Walker; six children, Denise Walker, Patricia Kee (Allen), Sandra Tzenez of Ottawa, Canada, Stanwick Walker (Ericka), Ann-Marie Walker of Kingston, Jamaica, and Navaeh Trinity/Yvette Walker; twelve grandchildren, Anthina Walker, Maurice Williams, Matthew Wenden, Shanice Walker, Nehomie Cavé, Ivan Tzenez, Yvonne Trotman, Jonathan Walker, Iris Walker, Solomon Walker, Nyree Walker, and Jamal Allen; six great-grandchildren, Khalim Walker, Dezarra Desrosier, Dimitrus Pomper, Anabell-Joy Nuatarali, Hezekiah Edwards, and Sariah Gopaul; one great-great-grandchild Xavier Walker; and a host of nieces, nephews, cousins and friends.